Emotional, practical and social support to help you and your family through the difficult grieving process
At Camberley and District Funeral Directors, we understand how hard it can be to lose someone close to you and have developed a unique bereavement service to help and support you through this difficult time.
The Bereavement Centre is a free service designed to support your emotional, practical and social needs, providing access to one to one bereavement counselling, friendship/social and support groups, walk and talk groups, life coaching and memorial services.
The Bereavement Centre team
The Bereavement Centre is run by a team of professionals and volunteers, with extensive knowledge and experience in counselling, bereavement and life coaching.
Our free bereavement services
One to one bereavement counselling
Come along and talk to one of our qualified counsellors in a safe, confidential, and private environment. This service is also available via Skype for those that would prefer counselling from the comfort of their own home.
Bereavement support groups
Meet other people experiencing bereavement, helping and supporting each other through this difficult time. These support groups meet once a month in different areas.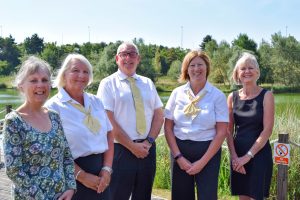 Friendship/social groups
Make new friends and gain confidence at these friendly social groups.
Coffee, care and cake
Not everyone wants a support group or to go out on day trips just yet, so come and meet others over a cup of coffee, in a relaxed and informal setting.
Walk and talk groups
Do you like to be active? Why not try our walk and talk groups where you have the opportunity to talk to others or a professional counsellor while walking.
Life coaching
When you are unsure of where you are going in life after a bereavement, life coaching can rebuild your self-esteem, helping you to focus on your goals to make the changes you need.
Find your nearest bereavement support group
For further information on any of our bereavement services please contact The Bereavement Team on:
Janet Quintavalle           07834 449069
Lesley Hadley                07834 529696
Ang Higgins                  07977 231453
Darren Dennis               07921 893934
or contact us via message on our website.
"I found the sessions very helpful and I learned from listening to others in the group that the feelings I was having were very natural. I continued with the group and felt that I was getting stronger and understood my feelings more each month."

"I feel the whole experience has given a purpose to my life, something that feels missing when you have a bereavement. I call the group my second family, as there is always someone to talk to when you feel down. They have also helped me to laugh again. Without The Bereavement Centre I would not have gotten through this on my own".